4 mins ago
Smith's run of birdies comes to an end at a pretty remarkable five, it must be noted!
5 mins ago
Young had a very nice chance there for birdie on 15, but it died just as it looked like it was ready to drop. Smith has done reasonably well to recover from that wayward drive, and after a relatively meek birdie putt, he tidies up for his par.
6 mins ago
Cameron Smith -19 (15); Rory McIlroy -18 (14); Cameron Young -17 (15); Viktor Hovland -15 (14); Bar -14
McIlroy putts his third up and over the big ridge and lets it run down towards the hole.  He's left with foot… and he could desperately do with making this if he's going to finish the day with the Claret Jug in his hands. It's right to left, and the line looks good, and somehow it stays high on him. Par five on "the easy 14th," as Laura Davies calls it on Sky. It's just not happening for McIlroy today and with four holes to play, you feel he needs something to happen. Hovland makes par too to stay four back.
14 mins ago
McIlroy has a go with his second into the par-five, and rather than go out the back, it comes up short at the front and trickles a few yards back towards him. It's not the worst place to be but there's work in the up-and-down for birdie.
15 mins ago
And now Smith finds a bit of trouble with his tee-shot on 15. He may have got a lucky break though as it doesn't appear to be the worst lie in the world.
16 mins ago
If McIlroy is fully aware of what's going on up ahead of him, he didn't let it show when he stood up to hit that tee shot on 14. He could hardly have placed his ball better on the 14th fairway. 
20 mins ago
Cameron Smith leads The Open!
Cameron Smith -19 (14); Rory McIlroy -18 (13); Cameron Young -17 (14); Viktor Hovland -15 (13); Bar -14
It's a fifth straight birdie for the Australian on the 14th, and he knocks McIlroy off the top of the leaderboard.
Young makes birdie as well and really, with Hovland struggling to mount a real challenge, it's that penultimate group that's really putting the pressure on McIlroy.
22 mins ago
Meanwhile, Shane Lowry has just finished out his day with a birdie on the 18th for a two-under par 70. He finishes on nine-under for the tournament, currently good enough for a share of 21st place.
24 mins ago
Rory McIlroy -18 (13); Cameron Smith -18 (13); Cameron Young -16 (13); Viktor Hovland -15 (13); Bar -14
Hovland, meanwhile, has 21 foot and change for par… and that slips by. He drops a shot and is three off again.
25 mins ago
McIlroy's left himself with 60 foot for birdie here, which seems optimistic at best… but once the ball starts moving, and you see the line it's tracking on, it looks for all the money in the world that it's going to drop for him. It stops maybe two rolls short. St Andrews would have exploded there, but it'll be a par for McIlroy on 13.
28 mins ago
Hovland's in the bunker on 13 and does well just to get himself back out of it again without causing any further damage. It's his turn to hit again while McIlroy waits, and he's left himself a reasonable opportunity to save par there. 
McIlroy's second is from 168 yards out… and his eight-iron goes way left… a distance outside Hovland's putt. It just hasn't clicked for him yet today, and two putts and par would be a reasonable return from where he is.
32 mins ago
TIED AT THE TOP!
Rory McIlroy -18 (12); Cameron Smith -18 (13); Viktor Hovland -16 (12);  Cameron Young -16 (13); Bar -13 
Smith makes his birdie on the 13th and he moves to -18 and a share of the lead. That's four straight birdies for him now — and now we're really about to see how Rory McIlroy can respond. 
Young makes his birdie too to move to -16.
37 mins ago
Rory McIlroy -18 (12); Cameron Smith -17 (12); Viktor Hovland -16 (12);  Cameron Young -15 (12); Bar -13 
Another opportunity slips by for McIlroy as that birdie chance on 12 trickles left. "Not one of his better strokes," is Paul McGinley's assessment on Sky. If he's not feeling the pressure from the chasing pack, he will be soon.
Hovland finishes off for his first birdie and, from Rory McIlroy's perspective, things are starting to get uncomfortably tight at the top… and that's before we even consider the fact that Cameron Smith has another great birdie chance up ahead on 13!
40 mins ago
Hovland goes first on 12, and while he could potentially attempt a long putt, he goes with the wedge — and stitches it. He should make birdie here, the first of his day, and move back to within two of the lead.
McIlroy goes next — he was a little more to the right of Hovland, and also chips, and he too will have a chance a birdie… admittedly not quite as close as Hovland's.
45 mins ago
The 12th is playing back into the wind again, so not quite driveable, even for McIlroy — but he leaves himself in a good spot with his second, while Hovland will be pitching in.
46 mins ago
Birdie for Smith!
Rory McIlroy -18 (11); Cameron Smith -17 (12); Viktor Hovland -15 (11);  Cameron Young -15 (12); Bar -13 
Forty-foot birdie putt for McIlroy at the par-three 11th and it just comes up a little bit short. It's pars again for himself and Hovland… but up ahead on 12, Cameron Smith makes his third straight birdie! He's on -17 now and McIlroy's lead is cut again to the minimum.
55 mins ago
Vital par save from Hovland there as well, while everything else was happening.
57 mins ago
Birdie for McIlroy! 

Rory McIlroy -18 (10); Cameron Smith -16 (11); Viktor Hovland -15 (10);  Cameron Young -15 (10); Bar -13 
Absolutely superb putt by McIlroy on 10, judged to perfection. He's 120+ feet away and could barely have placed the ball closer — for a minute, it looked like it might even drop in. He taps in for birdie and gives himself a bit of breathing room again.
5:01PM
Birdie for Cameron Smith! He rolls one in at the par-three 11th – and now he's just one behind McIlroy!
4:56PM
McIlroy hits the green on ten but he's a mile away from the pin; Hovland grimaces as he watches his ball bounce into the rough.
4:55PM
Rory McIlroy -17 (9); Viktor Hovland -15 (9); Cameron Smith -15 (10); Cameron Young -15 (10); Bar -13
Ten is driveable as well, with the wind behind the players, and up ahead, Cam Smith makes birdie to move to -15 and join Hovland two back. Young does likewise… and in a matter of seconds, that missed McIlroy chance suddenly stings a little bit more. He has to follow suit on the 10th with birdie.
4:53PM
Rory McIlroy -17 (9); Viktor Hovland -15 (9); Cameron Young -14 (9); Cameron Young -14 (9); Bar -13
Hovland is just a little bit too tentative with his birdie putt and has to settle for a par.
McIlroy now has a chance to go three clear and really put some daylight between himself and the chasing pack… but it zips past on the right. It's an opportunity missed, for sure, but he tidies up for his par and goes out in 35.
4:49PM
Hovland's tee shot has come up in the semi-rough but he has to play his wedge straight over the bunker that's protecting the Sunday pin position. He should be able to get it close and give himself a good birdie chance — but he doesn't really, pulling it a little right.
McIlroy has a clear line of sight from the opposite side of the green and plays his pitch in nicely. Eight foot left in it, maybe?
4:44PM
With Smith and Young heading off towards 10, McIlroy stands up on the driveable par-four ninth. He makes a bit of a groan as he blocks it out right, but as misses go, it's far from a bad one.
Hovland chooses not to try follow him, and hits an iron down the left hand side.
4:42PM
Young is punished with a bogey on the ninth and he drops back to -14, three behind McIlroy. Smith has a great chance to trade places with him and close the gap on McIlroy with a very good birdie look, but races it by.
4:37PM
Up ahead on nine, Young is currently scrambling around in the bushes after a wayward tee shot. It looks like he might have a shot though.
4:35PM
Rory McIlroy -17 (8); Viktor Hovland -15 (8); Cameron Young -15 (8); Cameron Young -14 (8); Bar -13
An inch short of 73 foot for Hovland, according to the on-screen graphic… and to his credit, it's a magnificent effort, and there couldn't be more than a foot left in it there to finish things off.
McIlroy's is a double-breaker, and nearly lands on Hovland's marker as it slows to a stop. Par apiece, and on we go.
4:29PM
Both safely on the green on the par-three eighth — McIlroy significantly closer than Hovland, who is not making life particularly easy for himself as he bids to close the gap.
4:27PM
A bit of a wait for the leaders on the eighth tee box while Young and Smith finish up ahead. Young has a nervy one to save par — and he makes it, which will be huge in terms of keeping his momentum going. Smith has a similar distance from the other side — and makes it too. They remain two and three back respectively.
4:22PM
Rory McIlroy -17 (7); Viktor Hovland -15 (7); Cameron Young -15 (7); Cameron Young -14 (7); Bar -13
Super putt from McIlroy who putts from 40 feet away, judges the pace perfectly back down into the bowl, and leaves himself with a tap-in par. Hovland makes par as well, and on we go.
4:20PM
Very unlucky bounce for McIlroy who has only left himself with 87 yards for his approach. It kicks off the top of the ridge that's guarding today's pin position and rather than trickling down into the bowl, it kicks the other way.
4:16PM
Birdie for Cam Young on 7! He moves to -15 alongside Hovland and a share of second place. Cam Smith makes par and remains one further back on -14 through seven.
4:14PM
Irons apiece for McIlroy and Hovland off the seventh tee, and once again, it's McIlroy who finds the better spot; Hovland looks to be caught up a little bit of long stuff.
4:09PM
Rory McIlroy -17 (6); Viktor Hovland -15 (6); Cameron Smith -14 (6); Cameron Young -14 (6); Bar -12
So close. Rory has 15 foot for birdie… and it just looks away at the last second as it feeds back down towards the hole. Great effort, and another solid par. It's par as well for Hovland and as you were at the top of proceedings.
4:06PM
McIlroy does putt, and he paces it perfectly! It's not an easy birdie putt, a little bit downhill from the top of a ridge — but it's certainly a realistic one.
4:05PM
McIlroy stands up and smashes his drive on six, leaving himself with a flick in from just 54 yards — and could potentially putt from there.
Hovland decides to take iron off the tee, leaving himself with a bigger number on approach, but he still has the guts of 45 foot to go with his putt.
4:03PM
For those of you not watching / watching the hurling, here's McIlroy's second shot into the fifth, which ultimately led to his birdie:
Rory McIlroy sets up an eagle chance with a stunning approach to the 5th#The150thOpen pic.twitter.com/ncTup9BvQI

— The Open (@TheOpen) July 17, 2022
3:57PM
Birdie for McIlroy!
Rory McIlroy -17 (5); Viktor Hovland -15 (5); Cameron Smith -14 (5); Cameron Young -14 (5); Bar -12
Perfect pace from McIlroy with his eagle effort and it leaves the simplest of tidy-up jobs for him to make his opening birdie of the day. Hovland needs his own birdie putt to stay within a single shot, but he misses — and Rory McIlroy now leads The Open by two clear shots!
3:56PM
Up ahead of the final group, both of the Camerons made birdie on the fifth to move to -14 — that's three straight birdies for Cam Young.
3:54PM
Eagle chance coming up for McIlroy on the fifth. With 256 yards left, he hits a beautiful iron to about 20 feet, give or take. It turns the screw a bit on Hovland who gets himself out of trouble but still has 145 yards left as he stands up to hit his third. He'll have a 30-footer for birdie while McIlroy sizes up his eagle putt.
3:43PM
Rory stripes a drive down the par-five fifth and it rests up just off the right of the fairway on what looks to be a decent lie. That's more than can be said for Hovland, who goes to the left of the fairway and, while he's not too far into the rough, he ends up at the bottom of a little mound. It'll be interesting to see what his stance is like there.
3:41PM
Bogey for Hovland! Rory McIlroy takes the outright lead!
Rory McIlroy -16 (4); Viktor Hovland -15 (4); Cameron Smith -13 (5); Cameron Young -13 (5); Bar -12
Hovland's par putt is a bit too high and a bit too hard and it scoots a few feet by. He'll have a tricky one back to make sure it's no worse than the one dropped shot — and he makes that. McIlroy takes the outright lead on -16; Hovland's approach shot there was his undoing.
3:38PM
Brilliant effort from McIlroy, who has to putt up and over a little ridge. It's not far off, but it's a fourth straight par for the world number two, who remains in a share of the lead… for the next few moments anyway…
3:37PM
Hovland is all of 78 feet away, according to the stats people. Three-putt territory indeed… and he doesn't really give his first putt a chance of getting close. Big par putt coming up for the Norwegian.
3:35PM
McIlroy hits first and there's little fault to find with his approach; he's about 30 feet away. Hovland is a little bit heavy on the gas though and is right and long of the pin; "three-putt territory," says Wayne Riley on Sky.
3:32PM
McIlroy opts for three-wood rather than driver off the fourth tee box to take some of the bunkers out of play, and he does just that. Hovland hits right up beside him. 320 yards, give or take, for both off the tee.
3:27PM
A word on Dustin Johnson who is two-under for the day through five and is now just four shots back on -12.
3:26PM
An eagle for Xander Schauffele on the 14th moves him to -11 and into a share of sixth place, but it's likely to be too little too late in terms of making a meaningful charge.
3:25PM
Rory McIlroy -16 (3); Viktor Hovland -16 (3); Cameron Smith -13 (3); Bar -12
Hovland's right-to-left birdie putt just doesn't come back left enough quickly enough, and he'll have to settle for par. It's a huge chance for McIlroy, putting up hill from six feet, to wrestle control of this tournament — but he burns the left edge and it stays out. Pars apiece for the leaders on three.
3:23PM
Hovland goes first. The pin is tucked away all the way on the back right corner, and he skips his past the hole with a magnificent effort. McIlroy goes one better again from 76 yards out — he plays a little runner up the front of the green and will have a super birdie chance.
3:19PM
The third hole is 398 yards and shouldn't really be driveable — but that doesn't stop either McIlroy or Hovland from giving it a right go. Hovland will have 82 yards in with his approach; McIlroy is even closer again.
3:13PM
Rory McIlroy -16 (2); Viktor Hovland -16 (2); Cameron Smith -13 (3); Bar -11
Hovland's effort is just short too and so it'll be a tap-in par for him as well. On to the next one…
3:11PM
Hovland and McIlroy both go over the flag and out the back of the second green. It's McIlroy to go first from 25ish foot… and it's perfectly paced, leaving him with the tappiest of tap-ins for his par.
3:06PM
Birdie for Cam Smith! It's the Players Champion who makes the first move from the pack with a birdie at the second to go to -13 and three shots off the lead. 
Meanwhile, in the group further ahead, Scottie Scheffler has had three good birdie chances in his first three holes but failed to take any of them. He remains five back on -11 for now.
3:05PM
Two smashing drives from McIlroy and Hovland to take all of the trouble out of play on the 452-yard second hole. McIlroy has the length and has left himself with a very comfortable 93 yards on his approach; Hovland is a bit further back and will be hitting from 121 yards.
2:59PM
Rory McIlroy -16 (1); Viktor Hovland -16 (1); Cameron Smith -12 (1); Bar -11
Very good effort from McIlroy but he watches it trickle by to the left, but it will leave him with a tap-in par. Hovland's just scoots by as well — and so it's as you were for the leaders with the first hole in the books.
2:57PM
Two super approaches from both McIlroy and Hovland at the first, and they'll both have very good birdie looks to get up and running. McIlroy plays first, watching on with a characteristic club twirl as his ball spins back to around 18 feet. Hovland is a couple of feet closer.
2:54PM
It's a par for Smith on the first, and Young is the first of the chasing pack to blink as he tries to follow him in. He has three-to-four foot for par, and it slips by on the high side. Young drops back to -11.
2:52PM
McIlroy tees off first and leaves himself in the heart of the first fairway. Hovland follows suit — and could barely place his ball any closer to McIlroy's. It's almost identical, Hovland's rolling two or three foot further.
2:50PM
The grandstands around the first tee are packed as McIlroy and Hovland wait for the Camerons to finish up ahead of them on the first.
And now, it's showtime…
2:46PM
A quick look at how the other Irish contenders still in the field are faring at this stage: Shane Lowry is one-under through five, and T18 on eight-under par, while a double-bogey on the 17th has seen David Carey slip back to two-under.
2:43PM
There are low scores out there today. Sam Burns currently holds the day's low round after shooting a bogey-free 64; Sadom Kaewkanjana and Abraham Ancer both have 65s to their name — enough to move them both to 11-under par and a share of fifth place for now; while Tony Finau is in the clubhouse with a 66.
There's every possibility that somebody goes low today.
2:40PM
Here's a quick reminder of how the top of the leaderboard looked ahead of the final groups teeing off: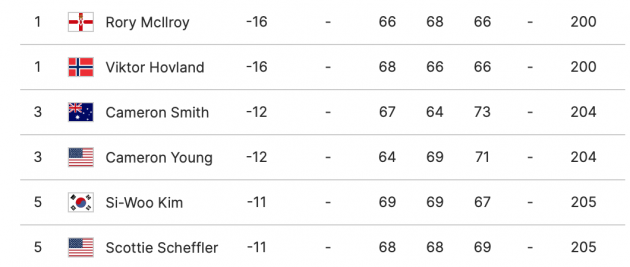 Speaking on Sky Sports, Paul McGinley expects that either McIlroy or Hovland will likely shoot 68 or 69 today, setting the score to beat at somewhere around 19-under or 20-under at minimum.
In that case, Cam Smith, Cam Young or anyone further back would likely need to shoot a 64 or lower to prevent this from becoming a straight head-to-head between the final pair.
2:36PM
Good afternoon, and welcome to what could be one of the great afternoons of Irish sport. Tens of thousands of Limerick and Kilkenny hurling fans are currently making towards Jones' Road while, across the water, world number two Rory McIlroy holds a share of the lead heading into the final round of the 150th Open Championship at St Andrews.
Nobody would begrudge you spending the next few hours on the couch, trust me.
Niall Kelly here, and it will be my pleasure to take you through the final few hours of the golf. The final groups are just heading out on to the course now, with McIlroy and co-leader Viktor Hovland due to tee off in around 15 minutes at 2.50pm.
Stay with us for the rest of the day and you won't miss a shot.
!function(f,b,e,v,n,t,s) {if(f.fbq)return;n=f.fbq=function(){n.callMethod? n.callMethod.apply(n,arguments):n.queue.push(arguments)}; if(!f._fbq)f._fbq=n;n.push=n;n.loaded=!0;n.version='2.0'; n.queue=[];t=b.createElement(e);t.async=!0; t.src=v;s=b.getElementsByTagName(e)[0]; s.parentNode.insertBefore(t,s)}(window, document,'script', 'https://connect.facebook.net/en_US/fbevents.js');
(function () {
function consentYes() { fbq('consent', 'grant'); }
function consentNo() { fbq('consent', 'revoke'); }
function boot() {
var consent = CookieConsentRepository.fetch(); if (consent.targeting) { consentYes(); } else { consentNo(); }
fbq('init', '417668522941443'); fbq('track', 'PageView');
CookieConsentListener.onTargetingConsentChange(function(hasTargetingConsent) { if (hasTargetingConsent) { consentYes(); return; } consentNo(); }); }
boot();
})();



Source link